Premium Confectionery Brand with Strong Sustainability and CSR Credentials set for DFTR debut


Created specifically for the travelling consumer, and exclusive to duty free and travel retail, Joseph's will be launched early 2021.
As well as expecting high quality products, consumers today demand that brands behave in a caring and sustainable manner and make a positive contribution to our world. Joseph's is such a brand. Our chocolates are SO GOOOD FOR THE PLANET.
Joseph's is produced in the heart of Brussels, by Manafacture Belge de Chocolats, a division of Godiva Japan. Not only are all ingredients 100% natural, all our chocolate is sourced through the Cocoa Horizons Foundation thereby helping support thousands of cocoa farmers with sustainable techniques to professionalise their business, and to ensure they can prosper and be self-sufficient for generations to come.
Sustainability also strongly influences our packaging design. Our beautiful gift boxes are avoid the use of superfluous elements. Our cardboard and paper is FSC certified and 100% recyclable. Plastic, where used, is made from 80% recycled material and is in turn 100% recyclable.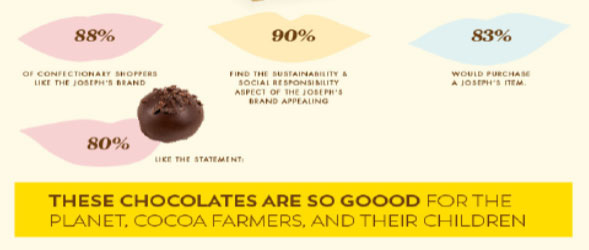 All of this is greatly appreciated by confectionery shoppers in duty free:

With a product for every gifting occasion, Joseph's offers infinite moments of loving kindness.
For more details visit : https://www.josephs-chocolates.com